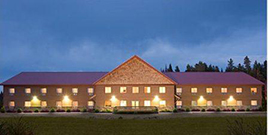 Modular construction has increasingly grown in demand that only caters to residential homes but also for commercial applications. It provides a better solution to many problems encountered with on-site construction for business people who want to custom-build an establishment at a faster pace and at a lesser expense so they can start or expand their business as soon as possible.
With most of the structure completed in a factory environment, there are significantly fewer delays that can occur as a result of bad weather at the construction site or because of damage or theft. And since construction time is reduced, it also saves on the daily labor expense incurred while the job is completed.
The available modular floor plans offers you a wide spectrum of design flexibility and customization opportunities so you can build a commercial space that is tailor-fit to the needs of your business. These plans have been pre-designed to give you ideas on how to maximize your floor space. Whether you are planning to construct a large complex or a single story building, you can have it at a price that is difficult to beat by other competitors who use traditional means or on-site construction.
Coupled with the quality of the manufacturing process that is protected from the weather and made more convenient with respect to time and budget, modular construction makes for a winning combination. You can be confident that commercial style modular buildings in Stoughton, MA are all custom-designed with a complete commitment to quality and assurance of value. The floor plans for commercial building construction let you achieve facility expansion goals be it in the form of a modular office, a retail store, a warehouse, or anything that you have in mind to encourage business continuity and profitability.
To find out more about commercial style modular buildings, contact Avalon Building Systems.