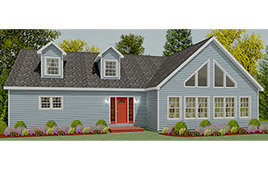 Commercial style modular buildings in Duxbury, MA are custom-built in a state of the art, environmentally controlled factory setting using only high quality materials and latest technology during construction. With each phase of construction being performed by skilled craftsmen and supervised by factory inspectors, you can be confident that your modular commercial building will meet or exceed all state and federal standards. But there are more benefits to modular commercial buildings.
Choosing modular construction saves on time and money. A commercial building built with modular construction costs less because the entire process is precisely managed so that typical costly problems associated with traditional construction are avoided. Additionally, modular construction companies purchase building materials in bulk from leading manufacturers allowing substantial savings on the budget for the entire project.
Modular construction uses precision cut materials for higher quality assembly over hand-cut materials. Because more efficient construction is achieved, the fabrication time is significantly decreased, no materials are wasted, and the building is more energy efficient when completed. Once the modules are built in the factory and transported to the building site, the commercial style modular building is assembled on the permanent site in far less time than a traditionally built building. As a result, occupancy of the building happens faster and you start doing business and gaining a return on investment.
To find out more about the advantages of modular construction in custom-building commercial buildings, contact Avalon Building Systems.