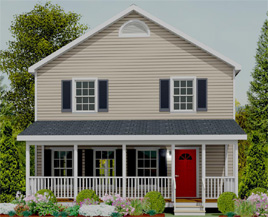 Today's modular construction allows you to build your dream home with privacy, convenience, and comfort in mind. So when deciding to build a house using a colonial style modular floor plan, you can stay true the traditional colonial design or design a floor plan that suits your personal style and meets your other requirements and needs.
Colonial style modular homes in Stoughton, MA are very popular for modular construction all over New England. These floor plans are not only attractive, they are also very functional and spacious. Homes built using these floor plans have two floors. However, the second floor can be a different size to add more beauty and style to the exterior design. The ability of colonial style modular homes to incorporate custom options makes them a great option for families of any size. Colonial floor plans are also best for those who are working within a tighter budget while custom-building a home, or for those who are not sure what they want to use their new space for.
Among the available floor plans for colonial style modular homes, The Princeton Colonial Home has become one of the more widely chosen styles because the design offers spaciousness that creates a one-of-a-kind luxury home for large or growing families. The total finished area is 2,600 square feet, in which you can have 3 spacious bedrooms upstairs in addition to the master bedroom on the first level of your house. You also have the option to include an open entry foyer or an optional porch to add more aesthetics and functional value to your home. If you want your traditional colonial to be grand, adding a Jacuzzi tab in the master bath is just one of the other options available.
In addition to The Princeton floorplan, there are numerous other choices for colonial floor plans available. To find out more, contact Avalon Building Systems.