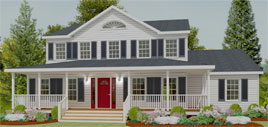 Some people can imagine the design and style of their new home more easily than others. However, even those who can create very solid images in their minds can benefit from using modular floor plans for better ideas to make their home stand out in terms of aesthetics and functionality.
If you are looking for a spacious and stately home that is unique, then Colonial style modular homes are often a great bet. Their nostalgically attractive design makes them perfect for south shore communities. In addition to the optional front porch, Colonial homes also offer sizeable bedrooms, an open entry or foyer, a wide living room, and many options for customization that make these homes luxurious.
The ability of these Colonial style floor plans to incorporate custom options proves that modular home construction in Norwell, MA can make your dream home a reality. Given these standard and customizable modular floor plans, you will be offered many design options that can help you envision what is it you would like to see in your future home. Having the freedom to choose how your home will look allows you be one step closer to the home of your dreams.
If you want to explore the idea of modular construction contact Avalon Building Systems. We can help build a home that is uniquely yours inside and out.