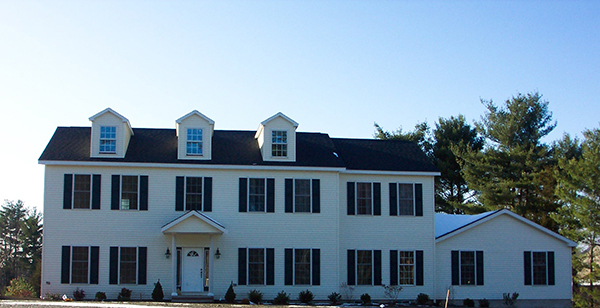 Do you prefer a home style with dormers and pillared front porches? Then colonial style modular home is the home style you should research. Porches that wrap around the house and massive white columns in the facade of the house are the cornerstones of this classic iconic style. Colonial homes are considered luxury homes given their two-story design and its relatively immense size.
Avalon Building Systems offers wide array of colonial style modular home plans. These home plans feature a large living room, three bedrooms with master suite, spacious kitchen with pantry, vast dining area plus 2-3 bathrooms. This makes it ideal for families with several household members. Some colonial modular floor plans showcase sizable mudrooms with side entrances, ample closet space and spacious garage. Colonial homes are what you usually envisioned as your classic dream home.
Large living space and privacy is what colonial style Avalon modular homes in Boston, MA offer to homebuyers. In addition, the home style allows merging of options that makes it an exquisite modular home. To learn more about colonial-style modular homes, contact Avalon Building Systems.