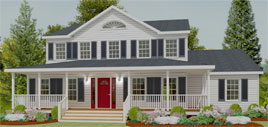 If you dream of custom-building a home that is attractive and that stands out from the rest in the neighborhood, then Colonial style modular homes are a great option. The decorative crown above the front door and the narrow side windows flanking it make them become a prominent choice for a modular floor plan that is spacious and luxurious.
Colonial style modular homes in Hingham, MA have evolved from European influences. Their unique architecture with recognizable styling have made them increasingly popular in the modular home industry. They are very popular in Massachusetts, and area where this style home is the preference of many homeowners. Originally, these two-story homes featured one room on each floor and eventually grew to four rooms per story to cater bigger families.
Modular home construction provides ideal solutions to many problems that are often encountered in traditional home construction. With approximately 90% of the home completed in a factory setting, there are fewer delays due to worker issues, bad weather or materials delays that are often found in on-site construction. The probability of material theft and vandalism is also significantly reduced. Additionally, modular homes from Avalon Building Systems are built to meet or exceed local and state building codes.
To find out more about how you can build a custom-designed Colonial style modular home, contact Avalon Building Systems.