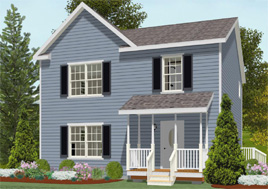 Colonial style modular homes are perfect for people who are searching for a spacious home with the lowest cost of construction per square foot. These two story floor plans can be further customized to match your personal preferences and specific requirements, both inside and out.
Dormers adorning the roof and/or a porch wrapping the house are two of the most distinguishing features of a colonial style modular home floor plan. The dormers and porch allow the exterior design of the home to stand out from the neighbors while elegant interior finishes can be added on the inside.
Despite the large square footage of this style home, construction of colonial modular homes can be accomplished significantly faster than traditionally built colonial homes. This is because modular homes are prefabricated in a factory setting to expedite the construction process, making modular homes ready for occupancy in weeks rather than months.
The available floor plans for modular homes in Stoughton, MA are only suggestions. Any of our modular home floor plans can be modified to fit your needs. Feel free to add, remove, or change any of the features in the standard floor plans. They can serve as a starting point for those interested homeowners who are not yet sure of what design to use for their modular home construction.
To find out more information about maximizing your living space and land area, contact the experts of Avalon Building Systems.