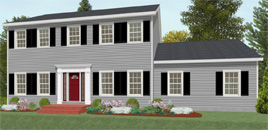 People used to think modular homes in Stoughton, MA were not as practical an option. However, today modular homes have become increasingly more popular because of the added convenience they provide in terms of time and money. More and more homeowners are choosing to build their dream home through modular construction.
Even floor plans conventionally designed for traditionally built homes can be used in developing modular floorplans. A popular choice for modular construction is the Cape Cod style modular home. In fact, there are many home amenities that can be added to improve this flexible floorplan. Fully-furnished on the first floor with an open living space upstairs, the Cape Cod home is ideal for families who are starting up or for those that will be growing and will need more living space in the future.
If you have a tight budget or are not sure what type of living space you will need down the line, the proposed second floor you see on the cape cod modular floorplan can be built later on. With the technological advancements in quality controls and building systems, the modular homes can be built quickly. Additionally, modifications to the floor plan can be made with ease even once the house is already built on its permanent site.
To find out more about existing modular floor plans that can be customized into a unique dream home, contact Avalon Building Systems.