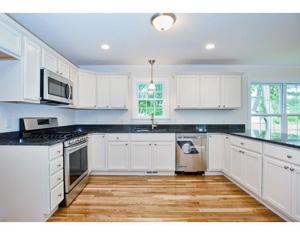 If you ever had the luxury of cooking in a high-end or gourmet kitchen, you know why they are so highly sought after in today's market. These kitchens have it all – great construction, fantastic appliances, and all the space you could need. They are among the most highly-desired amenities in new modular construction. Many new home builders offer options for kitchen upgrades including gourmet kitchen packages.
People often have trouble envisioning kitchens within modular homes. It's actually very easy to envision your next modular home kitchen. Just close your eyes and picture your dream kitchen. That specific vision is achievable today! Not only are our kitchens incredibly spacious and designed with you in mind, but you also have the option to completely customize with quality products so your kitchen is exactly the way you want it.
There are many different features and upgrades that make gourmet kitchens stand out from standard kitchens. Mainly, a gourmet kitchen is a playground for professional chefs and avid amateur cooks who have a passion for food. It can also be an incredible display piece that boosts the wow factor whenever you invite guests over to your home. Whatever your motivation, you will find that having a gourmet kitchen is well worth the investment.
Custom Cabinetry
Quality components are installed into all our kitchens. Our craftsman studied the techniques of professional cabinetmakers to create a premium product. We invested millions into precision woodworking equipment so we can get your cabinetry just right. Our cabinets are machined for ultimate strength and are available in a wide range of colors and styles. Our cabinets are built to last and styles are impressively beautiful inside your home.
Quality Ceramic Tile
Ceramic tiles are the most durable and attractive surface available to homeowners. It is easy to clean up and able to withstand high heat, humidity, and frequent use without issue. This allows us to use ceramic tile for multiple uses throughout your modular home. Ceramic tile comes in many colors, textures, and styles to match your preferred kitchen aesthetic. It takes a special touch to be able to properly install ceramic tile. Our contractors have the experience, skill, and tools necessary to install ceramic tile with ultimate precision.
Gourmet Final Touches
After you move into your modular home, you can create small details that will really bring your kitchen up a notch.
Purchase see-through storage bins to keep fresh ingredients in an airtight container. This will allow you to know exactly where everything is quickly!
Add a herb garden on your windowsill that doubles as natural décor along with a never-ending supply of flavorful herbs and spices.
Organize your pantry by including dates of when each item was opened and by frequency of use. You will always know exactly what is past its expiration date.
These kitchens have several very real advantages for homeowners. The most practical is that these kitchens can actually increase the value of a home. In fact, most home buyers see the kitchen as the most important part of the home when deciding between properties. In fact, one of the biggest benefits of having the space is being able to make use of all of the upgrades. Remember, a gourmet kitchen tends to have high-end appliances which may include features such as convection cooking which cooks food faster and more evenly. You will get access to the kind of kitchen that you really need for culinary experimentation without ever having to leave your home. It is a fantastic upgrade that is perfect for at-home chefs.
Your guests will surely be very impressed by the upgraded kitchen. These spaces are tailor-made for entertaining, with counter space that provokes a sense of envy and enough room to prepare for a party of almost any size. If you are a frequent entertainer, you need one of these kitchens to be able to keep up with all the prep work that needs to be done before a party. If you are tired of dealing with ordering out or catering for parties, having this kind of space can be exactly the solution that you need. A great gourmet kitchen can be a fantastic addition to any home. It can become the centerpiece of a home.
Kitchen is where the elements of life come together, your kitchen, a place to eat, talk, share, catch up and entertain friends and family. Our gourmet kitchen in our modular homes will do it all in style. From modern stainless steel appliances to an ultra-hip farmhouse sink to unique touches. Our modular homes are designed around you.
To learn more about Modular Building System, contact Avalon Building Systems.